Where can I take my dog?
Dogs are allowed in all state forests except for Murrindindi Scenic Reserve.
There are plenty of walks to enjoy with your furry friend and they're welcome at most campgrounds. When you plan your next trip don't forget to bring them along!
If you want to stay closer to home, you can also check out the many suburban parks and off-leash dog parks.
Restrictions on dogs apply across the park's network. Contact Parks Victoria for further information.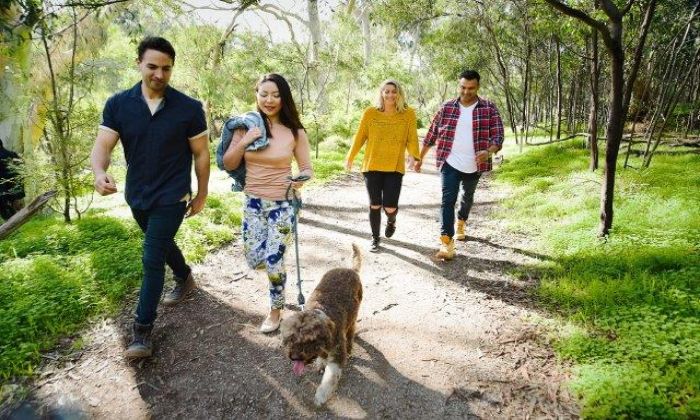 Rules for bringing your dog
We want to keep both our native wildlife and forest visitors safe.
During your visit please:
Keep your dog on a leash and under your control at all times when at our visitor sites or within 100 metres of any visitor facility.
Respect other visitors by keeping noise to a minimum.
Always pick up after your dog and bury its poo at least 100m away from waterways and camping and picnic areas.
Put the poo in a hole at least 20cm deep and backfill with soil.
Dog safety tips and potential hazards
State forests are great places for dogs and their owners to enjoy the great outdoors but there are hazards to be aware of, like snakes and ticks.
We've compiled a few safety tips to keep you and your dog safe:
Keep your dog on a lead and avoid long grassy areas.
Apply dog tick control products and do a thorough search of your dog's skin and coat daily, even if tick control products have been applied.
It's best to use your fingertips to feel through the animal's coat. Ticks or tick craters can be felt as lumps on the skin surface.
If you find a tick, remove it immediately by its head and not its body. Using a tick remover or tweezers, remove the tick at the point it has embedded itself in your dog's skin.
Take your dog to a vet immediately if it has been bitten by a snake or a tick. Both snake bites and tick paralysis are serious and potentially fatal and require immediate veterinary attention.
For more information, talk to your vet.
Page last updated: 14/09/22